It's a beautiful world—go, see, and enjoy it!
There are a lot of wonderful people in the world—go and meet them!
Hi, we are Diane and Dell Shiell. We co-founded Christian Home Exchange in 1992. We did our first home exchange in 1988. It was a life-changing experience for our family. At the time, our children were ages 10, 11, and 13. That's the ages of our grandchildren, now!
This is a picture of us in London. (We are from Minnesota and live in Florida.)
We are Christians, but you don't have to do a home exchange with other Christians to have a successful home exchange. The "key" to your success is to take your faith with you—be a Christian wherever you go and with whomever you meet.
Our organization is not affiliated with any specific home exchange network. However, you can locate several networks online with thousands of home exchange listings around the world. The thought of that many home exchange opportunities should get your imagination running free.
We've written a couple of books to help you learn more about the home exchange experience.
Free Book For Pastors
Give us your email so Amazon can send you a free copy of our book, Go, Pastor. Go!

We value your privacy and will protect your email address.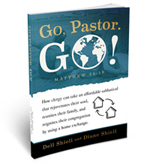 Our most recent book—Go, Pastor. Go!—was specifically written to encourage clergy to use a home exchange to plan an affordable sabbatical. (Released December 2, 2016).
Give us your email address and we will arrange for Amazon to send you a FREE COPY (Kindle) of this book—Go, Pastor. Go!—as our gift to you.
In our first book—Fair Exchange: A Ministry Exchange Between the USA and Norway—we share the story of the year that our family did a home and ministry exchange with a Norwegian pastor and his family. This was a truly life-changing experience for us and for the two congregations that participated in this exchange. (Second Edition. Released December 4, 2016.)
You are, also, invited to visit our Blog where we've included articles about home exchanges and travel.
Enjoy the adventure of a home exchange—for the time of your life!
God be with you and bless you,
Diane and Dell